Everyone knows that home buyers shop for kitchens. All the natural beauty and impressive architecture of Boca Raton luxury homes and other areas of gorgeous Florida only amplify a buyer's expectations for breathtaking kitchens and gourmet designs. While the living room is the first room your buyers will see, they immediately head to the kitchen to discover if it's everything they've dreamed of. With the proper staging techniques, any kitchen can become breathtaking.

Of course, staging a kitchen is tricky. Unlike other rooms, you can't define the space with furniture or large statement art pieces. The kitchen defines itself. This means you are relying on your color palette and a dozen little touches that will determine how dazzled your buyer is when they walk through your kitchen doors.
For staging a luxury kitchen, the
Paradise real estate team
has the perfect tips to ensure buyers fall in love with your design and decor. Follow this guide to get your kitchen staged to sell.
1. Keep it simple and elegant
Kitchen staging has one all-important rule: keep it simple. The trick to kitchen staging is that kitchens look best when the counters are empty.

An under-decorated kitchen is more attractive than an over-decorated one, and too much decor can quickly distract and discourage buyers. Staging aims to create an almost-blank canvas where the buyer's imagination can envision their own life there.
2. Perfectly prepare your kitchen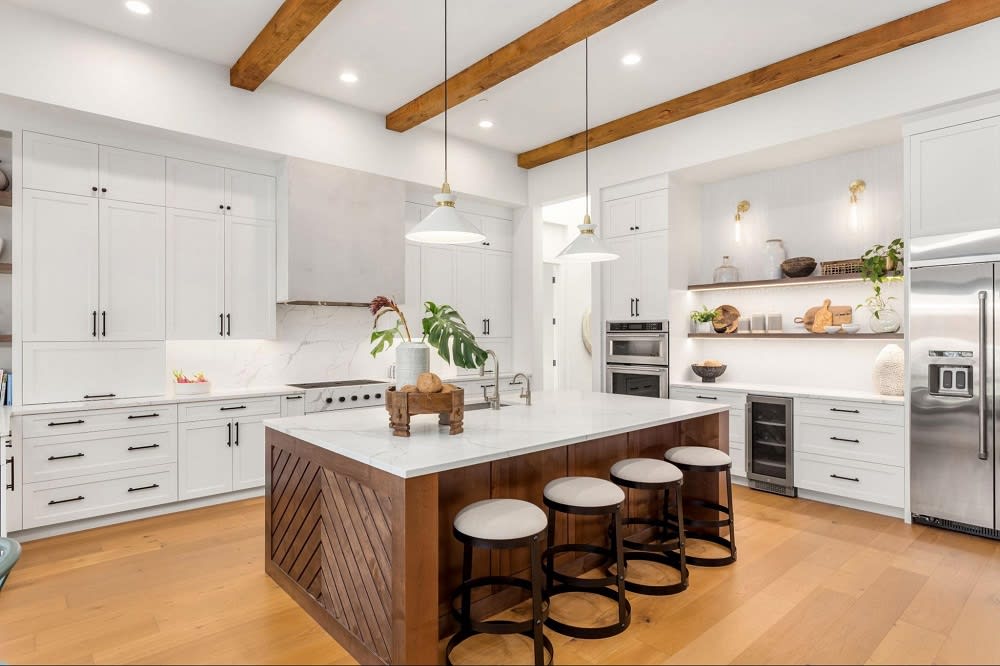 Photo courtesy of Shutterstock

Once you have your principles in mind, prepare your kitchen. Because it's essential, let's quickly look at how to prepare your luxury kitchen to be staged.
Deep clean every corner
Make sure every corner (and even those far reaches of every cabinet) is deep-cleaned. The kitchen should be crumb-free, grit-free, and even fingerprint-free if possible. Every surface should shine. There should not be a single uninspected corner where dirt could hide. Proper deep cleaning will have a subtle, impressive effect on buyers who can sense pristine quality when they see it.
Neutral yet eye-catching paint colors
We mentioned that paint color was a major element of kitchen staging. If your paint colors are already powerful and elegant, leave them or apply a fresh coat. If your kitchen could be more compelling, choose a neutral yet eye-catching
paint palette
and create subtle plays with hue and contrast in your kitchen design.
Refresh every kitchen finish
Finally, seal, polish, and refinish every surface. Oil the fixtures, reseal the countertops, and repaint the cabinets for a fresh, almost new-built look.
3. Exemplify how to use the space
The purpose of staging your piece of Boca Raton real estate paradise is to show buyers the potential of each room in your home. Your staging choices will exemplify how the space could be used, inspiring the buyer to imagine themselves using it.

In the kitchen, show off your hanging pan rack with a lovely set of copper-bottom pans above the island or along the wall over the stove. Place a step-stool in just the right spot to show off the pantry's upper levels, put a coffee maker in the beverage station, or leave the rotating corner cabinet slightly open to inspire your touring buyers to spin it.
4. Inspire the vision of a lifestyle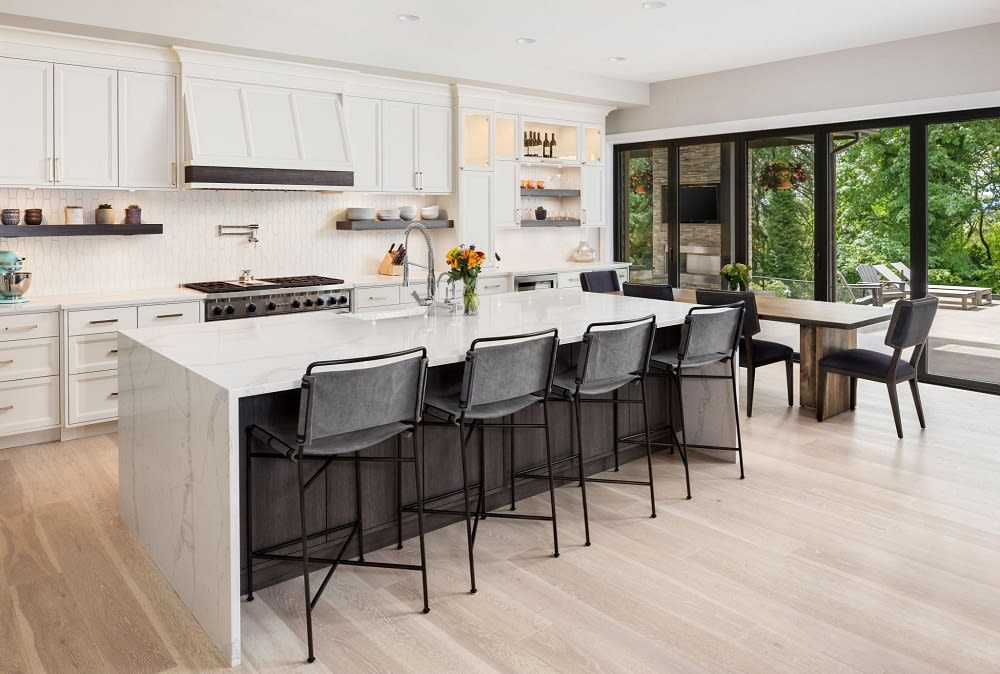 Photo courtesy of Shutterstock
You've shown your buyers how to use the space, so now, promise them a life of luxury if they buy your home and enjoy your kitchen. In luxury real estate, staging is not just about purpose, but also about
conveying a lifestyle
. You want your buyers to see not just the elegance of the architecture and land, but the extravagant life they could live there.

To do this, consider the way you decorate the kitchen with little lifestyle touches. Instead of juice glasses, place stemware in the visible cabinets. Instead of boxes of cereal, place elegant clear-sided dispensers in the pantry. Place a block of chef-class knives on the counter and set up a teak tablet stand recipe station by the stove. Tell your buyers that they'll enjoy gourmet cooking, afternoon drinks, and a beautiful home every day with the way you stage.
5. Accessorize the stovetop
The little touches count the most in kitchen staging. While we mentioned that empty counters are more beautiful than cluttered counters, an entirely cleared-out kitchen looks un-lived-in and unwelcoming. A kitchen is a place that should be warm and full of activity. To convey this with staging, use accessories to make it seem like the gourmet chef of your pristine kitchen just stepped out, and your buyers will be ready to step into their place.

Accessorize the stovetop, the island, and the area around the sink. Place a pretty spice rack near the stove next to a ceramic canister of wooden spoons. Hang potholders by the oven and maybe even leave a decorative spoon rest out as if it were about to be used. You might leave a cutting board and measuring spoons next to your recipe tablet as if it were a baking station or a little watering can next to your island plant. Leave an accent tea towel by the sink and pretty liquid hand soap in a clear, decorative pump by the sink.
6. Decorate with luxurious household items
Photo courtesy of Shutterstock
The kitchen is almost always staged with everyday household items. While other areas of the house can be staged with furniture, plants, and artwork, the kitchen is staged with dishes and canisters. A few symbolic pieces of glass and porcelain can make a kitchen seem cozy. In luxury kitchen staging, however, you want to ensure that every household item also
conveys a sense of luxury
.

Don't just put a pitcher and some glasses on the sidebar; choose a crystal wine decanter and snifters or stemware. Don't just hang a decorative tea towel; make sure it is rich in color and luxurious to the touch. Hang gourmet utensils on hooks or in drawers. Use fine, matching dishes when staging the shelves. Make your buyers feel that promise of luxury in every detail their eye can fall upon.
7. One statement wall piece
What about artwork? In a kitchen, this depends on the wall space available. The rule of thumb is to choose one statement wall piece that's not overwhelming to the space, often near a door or in the breakfast nook.

Choose one painting or, these days, one elegant wall decal. A backless clock can be extremely attractive and functional as one statement piece in the kitchen, but you can work with your Boca Raton realtor to choose the perfect piece to complete the vision of your staged kitchen.
8. Fresh fruit and green plants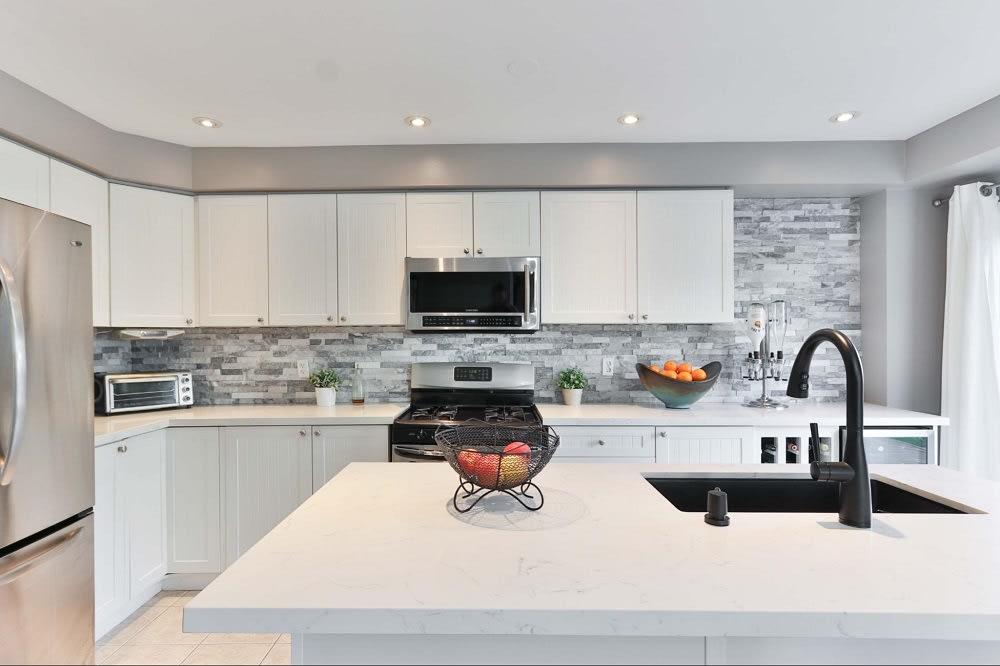 Then there are the real estate staging classics: the bowl of fruit and the potted plant. These two decoration choices are classics because they work. The bowl of fruit is especially topical for Boca Raton real estate because Florida itself is so rich in fresh fruits, and buyers will feel that promise of fresh citrus when they see your brightly filled bowl.

That said, greenery is trendy right now, and the right countertop house plant can make a kitchen feel cozy and "lived in" without clutter.
9. Stylized open shelving and artistic pantry organization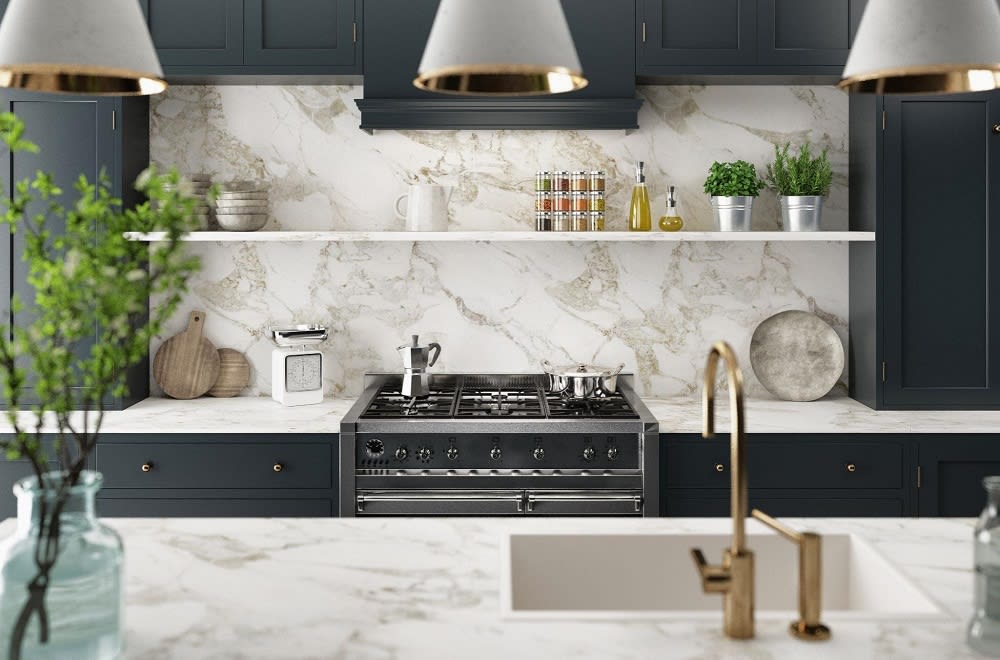 Photo courtesy of Shutterstock

If you have open shelves in your kitchen, style them. Place pretty glasses, decorative spices, or stacked dishware on any shelf that is exposed or in glass cupboards. This inspires the eye when looking over a kitchen, making it seem complete and well-organized. As for the pantry, you can guarantee your buyers will take a peek. Create a beautiful, organized pantry space using baskets and canisters. The secret? Make it artistic. There are few things more inspiring in kitchen staging than an artistically stocked pantry full of aligned canisters and tidy baskets.
10. Bake cookies before every tour
For your final touch, make the kitchen smell amazing before each tour. While the old trick is a can of vanilla air freshener, you could also throw some whole cloves in a small saucepan and simmer them. Even quickly microwaving cloves can fill the air with a fresh smell of aromatic baking.

If you have a little time (and maybe the pre-tour jitters), bake some cookies. You can then greet your buyers in the kitchen with a beautiful, aromatic crystal platter of fresh-baked cookies.

The Paradise Team is ready to become your answer to selling any luxury home in South Florida. With expertise in Boca Raton, Fort Lauderdale, and Sunny Isles, they know exactly what your home needs to wow buyers and complete a successful sale. Contact them today to explore your luxury home selling strategy.

*Header photo courtesy of Shutterstock